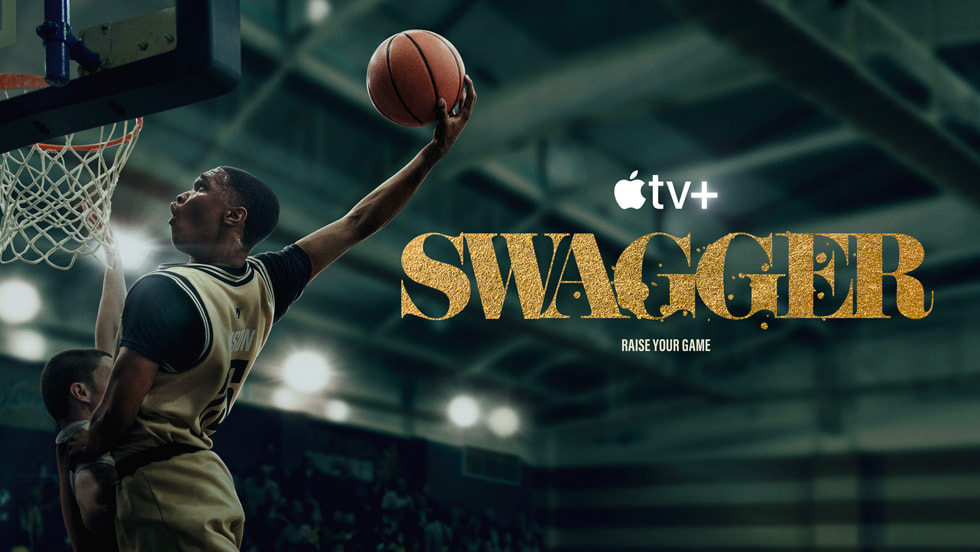 The long awaited Apple TV+ original series loosely inspired by NBA star, Kevin Durant youth basketball wonder years, "SWAGGER" is back for Season number 2. This phenomenal Apple TV+ series written, directed and produced by Reggie Rock Bythewood alongs with its star studded cast of leading black actors is a captivating, emotional and compelling story etched in the lived experience of black life. "On everything I love" this show is not just about the game of basketball but showcases the game of life in America; the success, the struggle and the defeats familiar to the black human cultural experience to acquiring wealth, education, love and family. Actors O'Shea Jackson Jr. as Ike, Tristan Mack Wilds as Alonzo Powers, Quvenzhane' Walls as Crystal, Isaiah Hill as Jace Carson, Shinelle Azoroh as Jenna Carson and now veteran actor Orlando Jones as Dr. Emory Lawson, all deliver riveting performances with a relatable storyline that will have you binge watching this show clamoring for more.
One of my favorite characters on the show is Jenna Carson (Shinelle Azoroh), the single mother to Jace Carson (Isaiah Hill) a gifted young basketball star player living in the inner city navigating through the treacherous waters of stardom and adolescence. Her no nonsense personality, her drive for success, her outcry to protect and her determination to secure her son's future truly shined the light on the beauty and ingenuity of black mothers.
READ and LISTEN LIVE! Sammihaynes.com was excited to be afforded the opportunity to talk with the southern belle and rising star actress Shinelle Azoroh about what to expect from Season 2 of "SWAGGER."
Welcome Shinelle!
What did it take for you the play and relate to the role of Jenna Carson? I guess the genesis of Jenna for me, I did not originally audition for the role. However, during the audition in front of Reggie Rock Bythewood he asked, "can I read for Jenna" and I said, sure. After reading for him, he told me to spend some time with the Jenna character. When I first read the script, I could certainly connect with this woman named, Jenna. Personally in life, I am not a no-nonsense type of person, I am the be quiet mouse and I will show you quietly.
I came back to Reggie Rock and he was like, "You are Jenna." I said, Ok. What he did that was wonderful and fun is that he gave us these packets from the writer's room at the beginning of our process compiled of journal entries from people they knew within community. I got a chance to talk with moms who sons were on their way to the NBA, I talk to moms who are like dreaming of the NBA, I talk to moms who had two kids and one was not in basketball and how she juggle the balance for both children. In addition, Reggie Rock and the writers gave us other materials and even a musical playlist for me with like Tupac Shakur song, Dear Mama, Boys to men song, Mama and more. It was just a fun playground from the jump. Plus, I am familiar with the Jenna storyline because my own mom and my grandmother were single moms. There was no other choice in life but to hit it. They were not victims of their circumstance and I knew it right away because I seen it. As a result, I saw myself in this community and I was like, "bet," let's take this on. That is our "SWAGGER" to not be a victim of our circumstances.
What do you hope is the audience take away from your character and what strength do you hope black woman as well take away from your character? Well, I hope people are able to witness that I am not the only mother being portrayed, in which Reggie Rock is doing really well at showing the many different stories of these basketball players life on and off the court. It is also my hope viewers who are not black or male that do not look like Jenna refuse the urge to put stereotypes or think less of black women. However, Jenna is smart, business-savvy, a hustler, and although she does not need a man, Jenna has found strength within community. A trusting community of men on a platonic level who genuinely cared about the success of her son in the absence of his biological father. Young black men many times are seen as a targets on their back; however, stress is taken off the back of black mothers when positive black men are active in their lives to help foster the success of their child. So people like Jenna see that there is strength in numbers and black women are more than one thing.
You are among some top notch actors such as: O'Shea Jackson Jr., Tristan Mack Wilds, Orlando Jones to name a few. How do you balance all that masculinity and yet deliver such a memorable and powerful character? Everybody is very true to their craft. I think when you trust in your own gifts and you get in a room with people who just shine, you can have no problem with their glow-up. And they are such generous people, like Orlando Jones, I remember watching him on "Mad TV," and would switch back and forth to "SNL," but when he was on I did not switch back. I was glued to the television. When I first saw him on set, I just had to tell him upfront, I use to watch you, I love you and I felt like we were best friends. He was like an angel that spoke our praises and he said, "the minute I saw Swagger, I wanted to be on Swagger." So we are all like a family.
And Yes, You are right! There are some heavy hitters but they are real people, they are good people and all of us at the end of the day want to tell this story that is written because it is so true to our community.
For More Deets! CLICK BELOW TO LISTEN LIVE "SWAGGER" Interview with Actress Shinelle Azoroh and Pastor Sammie
GO to APPLE TV+ NOW || "SWAGGER" SEASON 2 is LIVE NOW! Click BELOW to VIEW TRAILER…
Images Apple TV+ Press